Water Feature Services in Asheville, NC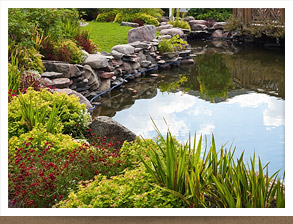 Absolutely Wonder Fall!
Kick off your shoes, sink into your comfy chair, now close your eyes and breathe deeply in and out. Listen to the sound of cascading waterfalls, birds chirping, and the bubbling koi fish. Since you've had Water Dance Outdoor Creations, LLC install pond good things have been happening lately. You find yourself and your family waking up an hour early to have breakfast pond side together or play with the acrobatic koi fish before you leave. The only problem is it's hard to tear yourself away but, luckily it's still waiting for you when you return. This is your time to relax and reconnect with nature. Don't just go somewhere wonderful and peaceful for a week's vacation. Bring wonderful and peaceful home so you can enjoy an everyday escape.
It's a whole new world! The water garden world is full of new friends and life; from the splendid colors and textures of the plants, the shimmering bodies of fish, the natural beauty of stone, and many other animals that will seek refreshment at your waterfall or fountain. Not all furry either! Water Dance Outdoor Creations, LLC believes in doing it right the first time. We know that a good constructed pond is the only way to achieve a low maintenance, organic, and flourishing water feature. Working with Mother Nature as our partner we are able to create the paradise you've always dreamed about. A water garden is not only a wonderful investment for your home but for your soul as well. We also provide pond maintenance and remodeling services, as well as outdoor lighting, pavers and retaining wall installations.
For more information contact us at 828-712-8268 or click here.

"It took me a long time to understand my water lilies.......I grew them without thinking of painting them........And then, all of a sudden, I had the revelation of the enchantment of my pond. I took up my palette."
-Claude Monet 1924
For generations water gardens have been inspiring us. And here at Water Dance Outdoor Creations they still do.

We Provide Services to the Following Cities and Towns in NC:
Fairview, NC
Mills River, NC
Hendersonville, NC
Canton, NC
Flat Rock, NC
Waynesville, NC
Black Mountain, NC