Pond Remodel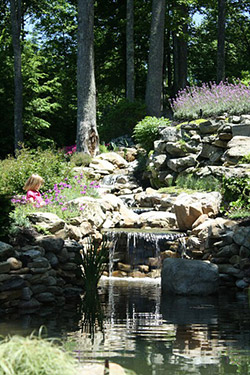 If you already have a pond and are happy with the overall look of it, however, it seems to have some issues such as losing water, always green, or making a funny noise we can come out and assess your pond. It might be time for an upgrade in more advanced equipment, just a simple freshening up, or maybe your just ready for a completely new look. We love to breathe new life into an old pond. Nothing's worst than a pond not being enjoyed or even worst becoming a burden.
Most people don't even think of this as an option because the task of redoing a pond can seem daunting but, for us there is nothing better. If you have fish already in your pond we safely remove your fish and house them temporally in our "Fishy Four Season Hotel" where they are well aerated and looked after until the remodel of their home is ready to move back into.
Let us remodel your water feature into the water feature you've always dreamed it could be. Your pond should be a focal point of your outside living space and a view to enjoy and share with family and guest. After we're done with your feature you will become a proud pond owner once again.
For more information contact us at 828-712-8268 or click here.
We Provide Services to the Following Cities and Towns in NC:
Fairview, NC
Mills River, NC
Hendersonville, NC
Canton, NC
Flat Rock, NC
Waynesville, NC
Black Mountain, NC