Pavers & Retaining Walls Fletcher, NC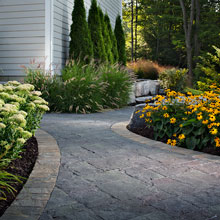 The benefits of adding pavers and retaining walls in your property are hard to ignore. These features can make your outdoor area more functional, safer, and more appealing. They are easy to install, cost-effective, and long lasting, making them the top choices for outdoor improvement projects.
And if you are looking for a contractor that can guarantee outstanding installation of pavers and retaining walls, then please call us at Water Dance Outdoor Creations LLC. We are licensed contractors with years of experience in the design and the installation of paver features and retaining wall structures. We can show you some of our completed projects in Fletcher, Asheville, Arden, and surrounding areas.
Skilled and Certified Installers
At Water Dance Outdoor Creations LLC, we are always confident about the quality of our work. Our crews are the best in the industry. They are all properly trained and highly skilled in installing pavers and retaining walls. As certified installers, they can work on different paver structures, such as patios, pool decks, walkways, and driveways. The retaining walls that they can build are also proven sturdy and attractive.
We are an ICPI-certified firm, so clients are assured that we are highly proficient when it comes to paver installation. We are also certified by vendors and other hardscape manufacturers such as Belgard. With these certifications and accreditations from product suppliers, you'll have peace of mind knowing that the people working on your outdoor improvement project are all paver experts.
Complete Hardscaping Resources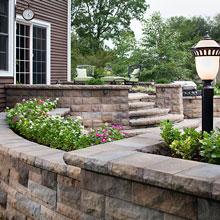 We have invested a lot in tools and equipment to cater the needs and project requirements of our NC clients. We have the capabilities to handle the installation of paver patios in residential properties, as well as the construction of large driveways and parking areas in commercial properties.
Another great thing about hiring us is that we have reliable suppliers of premium pavers and retaining walls. They've been providing us with top-of-the-line products that are not only exquisitely designed but also proven durable. For example, we only use segmental retaining wall blocks for our projects to ensure the structural integrity of the walls that we build. It is not surprising why many of our clients in Fletcher, NC prefer us over other installers in the area. With our wide selection of paver products and retaining wall blocks, clients can easily choose their preferred designs or themes. From the specific color, pattern or texture that our clients need, we have them in our inventory.
We can also use eco-friendly products for clients who are environment conscious. We have permeable and turf pavers that are best installed in driveways, pool decks, parking areas, and walkways. The pavers and wall blocks that we use are all manufactured in state-of-the-art facilities, so you are guaranteed that they conform to industry standards and are compliant with environmental laws.
Hire an Experienced Contractor
You must only hire an experienced contractor for outdoor improvement projects, particularly the installation of pavers and retaining walls. By hiring expert installers like us, you are guaranteed of reliable structures that are also stunning in all aspects.
For your inquiries and free project cost estimate, please call us at (828) 712-8268.
We Provide Services to the Following Cities and Towns in NC:
Fairview, NC
Mills River, NC
Hendersonville, NC
Canton, NC
Flat Rock, NC
Waynesville, NC
Black Mountain, NC