Pond Maintenance Asheville, NC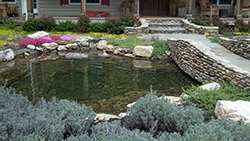 Water Dance Outdoor Creations LLC is a pond expert serving North Carolina clients for more than a decade now. Through the years, we have served countless satisfied clients in Asheville, Arden, Fletcher, and surrounding areas. Our clients from these areas have proven our expertise in the design and installation of various water features. They also rely on us when it comes to performing pond maintenance tasks.
So if you need help in the proper maintenance of your ponds, please call us today. We have a team that is always ready to work on any pond maintenance job. Whether you are in Asheville or in nearby NC areas, we can go to your location any time of the day.
Customized Pond Maintenance Plans
Our custom pond maintenance plan is one of the reasons why we are popular in Asheville, NC. Clients can choose their desired services from our wide range of service offerings or opt for our comprehensive maintenance program. With these options, they can first try our services before going for our yearly maintenance plan.
Clients can also opt for our on-call services. We can immediately respond to emergency calls and provide clients with the right solutions to their pond maintenance concerns. Our service vehicle is complete with replacement parts and critical tools so our crews can address any pond concern right on the spot.
Our Comprehensive Pond Maintenance Services
We are probably the only pond maintenance service provider in the Asheville area that can offer comprehensive services. Maintaining all types of ponds is our specialty, so clients are assured that we can deliver the results that they want. We are also versatile workers, so we can handle simple to complex maintenance jobs.
Please take a look at some of our offered services: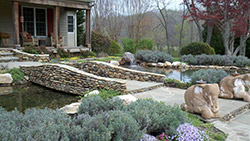 Equipment, filters, and pump lighting inspections. The health of your fishes and plantings will be at stake if you have a malfunctioning pump or ineffective filter. Our crews will inspect these installations to determine problems and provide outright solutions. They can clean or replace skimmers and bio-filters, adjust pumps, check plumbing, replace bulbs, and service UV lights.


Microbe-lift pond treatment/additives. We only use industry-approved pond treatment products and additives. Depending on your pond's needs, we may use solutions to control algae and phosphate. We may also use dechlorinators, oxygen boosters, and cleaners.


Pond aesthetics improvement. We can maintain your pond's aesthetic appeal by improving the pond-side landscaping. We also hide exposed liners or reposition rocks and boulders to maintain its natural look.


Pond water management/analysis. We may recommend water replacement or use other proven methods to make your pond water clean and clear.


Plant and fish care/analysis. A pond that is teeming with life is always a sight to behold. When you hire us, we will make sure that your plants and fishes get the right care. We can also fertilize tropical plants to ensure their health.


Hands-on inspection and adjustment. By performing hands-on inspection, we can easily identify hidden problems such as leaks in the plumbing and liners.
We also offer other premium services. You may hire us for net installation, spring cleanups, koi delivery, and plant installation. Please call us at (828) 712-8268 so we can recommend the best solutions to your pond maintenance concerns.
We Provide Services to the Following Cities and Towns in NC:
Fairview, NC
Mills River, NC
Hendersonville, NC
Canton, NC
Flat Rock, NC
Waynesville, NC
Black Mountain, NC