Water Features Arden, NC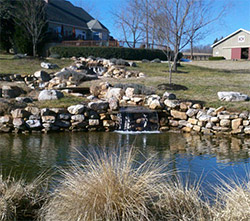 Water features are great additions to outdoor areas and landscaped properties. They can easily make properties standout because of their aesthetic appeal. Aside from their charm, these features are also known to provide wonderful health benefits. The sound and sight of cascading waterfalls, for example, can relieve stress and calm a tired soul.
If you don't have any water feature in your property, it's time to have one. Most property owners in Arden, Asheville, Fletcher, and surrounding areas are now enjoying the various features that we have created for them. Just call us at (828) 712-8268, and our waterscaping team will also create the perfect water features for your outdoors.
Unique Designs and Expert Installation
Our past clients are all amazed at how we created each water feature in their properties. They commend us for our creativity and unique designs, which easily transform a boring space into a lively and enticing one. But here at Water Dance Outdoor Creations LLC, we don't just focus on the aesthetic appeal of the water features that we create. We also consider other important factors to ensure that our clients will be more than satisfied with our finished work. Our creations are easy to maintain, installed in strategic locations, and exquisitely designed.
In addition, we only employ experienced crews to guarantee quality installation. They can work on all types of water features, such as ponds, waterfalls, fountains, and living ponds. The project's size is not an issue for us since we have already handled large installation projects in Arden, NC and other cities nearby.
Our Awesome Creations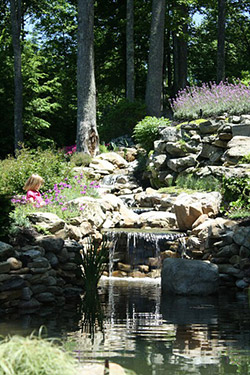 Since 2002, we have already designed and built countless water features for our North Carolina clients. Our completed works range from simple water gardens to more elaborate waterfalls and ponds. All these features were designed and installed by our dedicated crews who have been working for us since we started our business. With our decades of combined experience, we can easily create awesome waterscapes that will surely make heads turn.
Meanwhile, you can hire us to work on all or any of these water features:
Ponds. We are the best people that you can hire for pond installation projects. We have extensive experience in pond design and installation, so we are knowledgeable about the different types and their specific requirements. We can create koi ponds, rock ponds, and detention ponds.


Living ponds. If you want to have a unique spot for your rest and relaxation, living ponds are the perfect features for you. Our swimming ponds look natural and complete with filtration system to ensure your safety and health.


Waterfalls. Waterfalls are always great additions to outdoor spaces since they can be used as focal points in pools, gardens, and even in patios. Some of your options include cascading, tiered, and wall waterfalls. We can also create pondless waterfalls for clients who have children and aging family members.


Fountains. Installing a fountain in your landscape is always a good idea if you want to improve the aesthetic appeal of the outdoor area. We can install one in the middle of your garden, near the pool area, in the courtyard, or anywhere you like.
Trust the Experts in Waterscaping
Waterscaping is an art so the task must be given to people who are experienced, creative, and professionals. And if you are looking for one, just contact us at Water Dance Outdoor Creations LLC. You can visit us at our Arden, NC office or call us at (828) 712-8268 so we can start creating your dream water features.
We Provide Services to the Following Cities and Towns in NC:
Fairview, NC
Mills River, NC
Hendersonville, NC
Canton, NC
Flat Rock, NC
Waynesville, NC
Black Mountain, NC