Water Feature Maintenance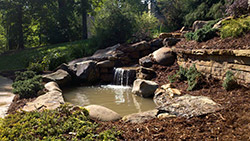 We are keen to clean!
Yes, keeping your pond clean and clear is better for everyone. It makes for healthier fish, thriving water plants, and much better scenery. With all three plans we strive to keep your pond balanced and looking good. Whether you need a little helping hand or just want to enjoy a beautifully maintained pond, we have a service plan that meets your needs.
Bronze


$65

Silver


$75

Gold


$139

Annual maintenance service visits
12
12
24
Equipment, Filters, Pump Lighting Inspections
Service UV light

*

yes
yes
yes
Inspect pump intake, plumbing, etc.
yes
yes
yes
Inspect pump skimmer, bio-falls, stream
yes
yes
yes
Check auto-fill device
yes
yes
yes
Bi annual lighting inspection
-
yes
yes
Light blub replacement

*

-
yes
yes
Empty skimmer debris nets
yes
yes
yes
Clean skimmer, biofalls filter pads

*

yes
yes
yes
Microbe- lift pond treatment additives
Includes ALL pond Additives/chemicals
-
yes
yes
Qualifies for "special pricing" on Ammonia and Phosphate
yes
yes
yes
Pond Aesthetics Improvement
Hide exposed liner by repositioning rocks and gravel
-
yes
yes
Clear & Clean Water Management/Analysis
Check PH and Salinity levels
yes
yes
yes
Plant Life and Koi Fish Analysis/Care
Prune water plants
-
-
yes
Fertilize tropical water plants
-
-
yes
General health care check for fish
-
yes
yes
Hands-on Inspection & Adjusment
Adjust stream rocks and gravel
-
yes
yes
Still More Maintenance Service
Reduced charge on service calls
yes
yes
yes
Multi feature discounts available
yes
yes
yes
Fall netting installation
reduced cost
reduced cost
reduced cost
Preferred dates for spring cleanout
yes
yes
yes
Reduced charge on additional services
$49/hr
$49/hr
$49/hr
*Cost is for up to 1500 gallon water features, larger features will be quoted individually
*Allowable time per visit is up to 30 minutes for the Bronze plan and up to 45 minutes for the silver and gold plans
* Materials and equipment not included
We Provide Services to the Following Cities and Towns in NC:
Fairview, NC
Mills River, NC
Hendersonville, NC
Canton, NC
Flat Rock, NC
Waynesville, NC
Black Mountain, NC