Fountains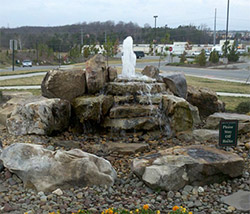 A well chosen fountain is like a piece of artwork. It can lend a touch of formality or whimsy to your garden or entry way. With hundreds of styles and colors to chose from your sure to find that statement piece you've been looking for.
Perhaps the best thing about fountains is their versatility. A fountain can be placed almost anywhere and any place on site. Most fountains are installed and up and running within a day or less!
Fountains are a quick and easy way bring the element of water to your garden and add something special to your home or business.
For more information contact us at 828-712-8268 or click here.
We Provide Services to the Following Cities and Towns in NC:
Fairview, NC
Mills River, NC
Hendersonville, NC
Canton, NC
Flat Rock, NC
Waynesville, NC
Black Mountain, NC