Services & Products
Services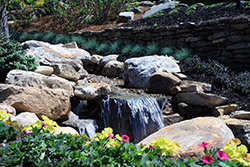 We are a full service provider offering installation and maintenance of all water gardens, landscape,accent lighting, hardscapes, koi fish, slow drip irrigation, and products.
While meeting with you at your property we'll talk "ideas." We want to hear your thoughts and get to know the space or spaces you have in mind as well as get a feel for how you plan to use it. This way we work as a collaborative team and are able to achieve the perfect end result.
We can design for you from start to finish everything from your pond, landscape, the beautiful accent lighting within your pond and surrounding areas in your yard, provide the highest quality koi, all hardscaping including fire pits, patios, walkways, driveways, and maintenance after your project is completed. We also welcome new construction projects.
We are fully licensed and insured. As well, as ICPI certified in paver installation of all kinds.
Are goal is to provide you with the best level of customer service and to give you something you will enjoy for as long as you own your home.
Products
Here is a list of the products we provide and use.
Crystal Clear
Microbe lift
Algeaway
Flocculant
Pond Care
Savio
Easy Pro
Atlantic Fountains
Danner
Aqua Scape
Matala
Tsurumi
Aqua Ultraviolet
Emperor Aquatics
Little Giant
Filtrific
Blackwater Creek Koi Food
Med Fin Medicated
Hikari
Pond nets
Pond heaters
Pond Deicers
Pond aerators
Pond Logic
Pond Master
Hakko
Pond Force
Kasco
Firestone Pond Guard
Carlisle EPDM liner
Pond Armor
Water Plants
We Provide Services to the Following Cities and Towns in NC:
Fairview, NC
Mills River, NC
Hendersonville, NC
Canton, NC
Flat Rock, NC
Waynesville, NC
Black Mountain, NC