Outdoor Lighting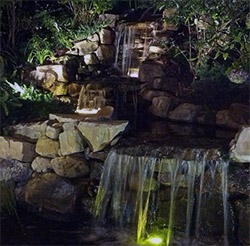 Ever driven by a house with wonderful accent lighting at night? Then you already know the difference it makes. Quite literally night and day! When your house and grounds are properly light up at night it's as if saying, "not only is my property gorgeous during the day but, it takes center stage even at night." Outdoor lighting makes a feeling of refinement & elegance. It has to be the right combination of lights though, not too much light or too little. Too much light and you don't have the attention in the right places and dim lights or not enough looks like a sad attempt. We only use upscale outdoor lighting systems and their fixtures.
The fixtures are not only beautiful but, deliver that crisp white light that looks so good. Having the right amount of light for the different focal points on your property is also key.
When outside at night the accent lighting makes your yard and home feel totally different. It's truly amazing the transformation in atmosphere it can create. You may feel like entertaining your friends for an evening under the stars or taking a night stroll around your property discovering a new perspective of the place you've lived in for years.
We would love to talk with you about a lighting plan for your home and property.
What kind of night life will you have?
For more information contact us at 828-712-8268 or click here
We Provide Services to the Following Cities and Towns in NC:
Fairview, NC
Mills River, NC
Hendersonville, NC
Canton, NC
Flat Rock, NC
Waynesville, NC
Black Mountain, NC