Ponds & Waterfalls
Absolutely Wonderfall!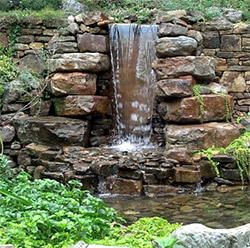 Around here we're known as the "Pond People" and we could not think of anything we'd rather be known as.
Since we've built over six hundred ponds and waterfalls and maintain over seventy per month we are able to bring pride and experience with us to every new project. There is a surge of excitement with every new pond or rebuild because no two are alike and that keeps it interesting and original. We use all real rock, only the highest grade quality materials, and we stand behind our work. By valuing your ideas and thoughts we become a team and that helps us deliver exactly what you want. We build natural looking ponds and waterfalls that are dependable and function with ease. A water garden is a focal point not only in your garden but, in life. It's where you go to soothe your stresses or relax and entertain. When you hear running water it sets you at ease.
Depending on the location of your pond the sound of running water can often times be heard inside as well as outside. Listening to your waterfall at night through your bedroom window is a real treat. Water gardening opens up a whole new list of possibilities. There are so many exquisite water plants to choose from; some only bloom at night, fragrant, colorful, and the textures oh my! It's so much fun! And after your water feature is built we're still around to answer any questions you might have down the road. In fact, we've seen many of our customers once a month for ten or more years. So we build strong relationships and don't just collect payment and run. We build it right the first time and are fully licensed, insured, and carry workers compensation insurance. Each feature is hand crafted to its surrounding space making it look natural and one of a kind. As no two stones are the same neither are features and we would never use anything preformed or fabricated. It's just as important to us to create something not only your proud of but, something we're proud of too and strive to deliver the best service and a water feature to be jealous of.
We educate all our customers in the upkeep of their ponds, however, if you'd rather not get your hands wet please check out our maintenance page with convenient options to choose from. We appreciate your business and look forward to hearing from you soon!
For more information contact us at 828-712-8268 or click here.
We Provide Services to the Following Cities and Towns in NC:
Fairview, NC
Mills River, NC
Hendersonville, NC
Canton, NC
Flat Rock, NC
Waynesville, NC
Black Mountain, NC