Koi Fish
Fishy Fabulous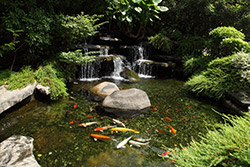 They're beautiful and entertaining, what more could you ask for, right? Well, it gets better. Not only do fish play a crucial role in the aquatic circle of life but, they help maintain your pond for you. That's right! By eating algae and bugs that come to the surface they are actually helping you keep your pond clean. You'll find that the fish get names and have their own distinct personalities. They become part of the family but, better than pets they don't have to be walked everyday and don't need a bath once a week!
We have available healthy Butterfly & Long Fin Koi fish shimmering in a wide variety of colors and sizes. All Koi are originally descended from champion Japanese stock but, bred right here in the good ole US of A. We can help you start your collection or add one or more special fish to your already fishy family. Upon delivery we will check the water quality and acclimate the koi to their new environment. Then welcome them to their new home.
Our fish break down into three groups. They are the same for standard or butterfly.
Premium
These fish hit the mark as far as confirmation, color, and pattern. They have qualities of the import variety.
Select
These are a high grade fish with recognizable colors and patterns. Easily identified koi such as Bekko, Matsuba, Chagoi, Soragoi, Karasu (crow), and many, many Rin Gin varieties.
Decorative
These koi have bright colors and patterns. Even though these are the least expensive they are every bit as healthy and are unique as they are pretty. They are perfect for a first time pond owner who wants beautiful fish but would rather gather experience with their pond & fish before purchasing more expensive koi.
If you are looking for a "knock your socks off fish" will have those as well. These koi are appraised individually.
For more information contact us at 828-712-8268 or click here.
We Provide Services to the Following Cities and Towns in NC:
Fairview, NC
Mills River, NC
Hendersonville, NC
Canton, NC
Flat Rock, NC
Waynesville, NC
Black Mountain, NC