Belgard Elements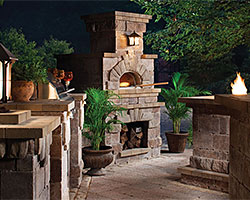 Wexford Series
Classic Collection
The Wexford Collection utilizes a striking combination of tumbled block and features Old World Paver™ accents. Wexford's rugged, yet defined, appearance should feel at home in any surrounding.
Specs
Wexford Fireplace

3'D X 5'W X 9.5'H
Wexford Wood Boxes

2.3'D X 3'W X 3.25'H
Wexford Straight Hearth

2'D X 5'W X .9'H
Wexford Brick Oven

4'D X 4'W X 8.1'H
Wexford Grill Island

3'D X 6.3'W X 4.3'H
Square foot varies depending on installation. All measurements are approximate.
Contact your local Belgard dealer for details.
Colors

Gascony Tan - Dublin Cobble

Gascony Tan - Highland Stone

Gascony Tan - Old World

Gascony Tan - Weston Stone
Patterns
No pattern information is available for this product.
We Provide Services to the Following Cities and Towns in NC:
Fairview, NC
Mills River, NC
Hendersonville, NC
Canton, NC
Flat Rock, NC
Waynesville, NC
Black Mountain, NC