Pavers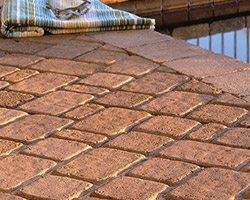 Cambridge Paver Tile
Classic Collection
Paver tiles are designed for pool decks, plazas, and courtyards. They are especially suitable for large-scale overlay projects and pedestrian pavement renovations. Paver tiles are available in three popular styles. Using these styles, a wide variety of patterns, colors, and textures can be achieved.
Specs
Square

6 X 6 X 1 3/16
Rectangle

6 X 9 X 1 3/16
Large Rectangle

6 X 12 X 1 3/16
Square foot varies depending on installation. All measurements are approximate.
Contact your local Belgard dealer for details.
Colors

Adobe

Amaretto

Bentcreek

Harvest Blend
Patterns

Running Bond

90° Herringbone

3 Piece Pattern

4 Piece Pattern

2 Piece Pattern

2 Piece 90° Herringbone
We Provide Services to the Following Cities and Towns in NC:
Fairview, NC
Mills River, NC
Hendersonville, NC
Canton, NC
Flat Rock, NC
Waynesville, NC
Black Mountain, NC